2016-2017 Academic Catalog
[ARCHIVED CATALOG]
2016-2017 Academic Catalog
---
Welcome to the NEW PGCC Online Academic Catalog
Whether you are new a new, current, or returning student, you can use this online catalog to find information to guide you along your academic and career paths!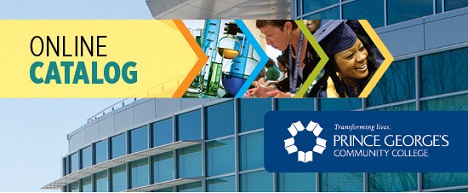 The catalog helps you locate information such as:
courses
degree requirements
academic policies
procedures
Below are links to PDF and archived versions of the printed catalog that can be downloaded.
2015-2016 Catalog (PDF)
Click here to download a printable version of the 2015-2016 PGCC Catalog.
Archived Catalogs
Looking for a previous catalog? Click here to view archived PGCC Catalogs . 
Searching & Saving Content in the Online Catalog
The Search Catalog feature allows you to type in a search term and find content.
The Advanced Search feature helps you narrow down the content that you want.  Find courses, programs, all curriculum, and other content.
You can also browse content by simply selecting the links on the left navigation.
The My Portfolio Tool allows you to save courses, programs, links, divisions, and past searches so that they are easy to find later.  You can use any email address to set up your account. Look for and click the star  icon in the top section of a page that you want to save to your portfolio.
A mobile version of our catalog can be viewed on your Android or Apple device. Scan the QR code to connect to the MC mobile catalog.

If you don't have QR software on your mobile device, click on the Apple App Store button or the Google Play button to the right.

Mobile Access Tip

High resolution mobile devices, such as an iPad, will show up in the desktop version of the online catalog. Some low resolution mobile devices may show up with a mobile version of the catalog. For the best viewing experience, please access the online catalog from a desktop computer or high resolution device.
On every page of the catalog there is a Help button 

and you may also access this guide, Supplemental FAQ Guide , for answers to common questions.
For further assistance, please contact the College Information Center at InfoCenter@pgcc.edu or 301-546-7422.
---
Back to Top
|

Print-Friendly Page